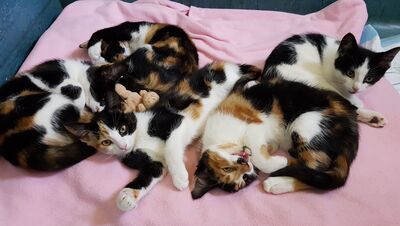 Today we received a family of cats who are needing a new home. There are 4 tortoiseshell female kittens and one black and white male kitten. They are currently still with their mum who also needs a new home. Can you help? The kittens are roughly 10weeks old and seem to be fully weaned and are very playful and mischievous and ready for their new homes!
Please give us a call at the practice on 01254 53622 if you are interested. The are old enough to start their vaccinations but have had flea and worming treatments. Mum will also need to be spayed.
Please share or pass on this info to anyone you know who may be interested in giving these lovely kittens a new home.
Thank you.
Daisy Street Vets
19th September 2017, 13:16