David Higginson BVMS, MRCVS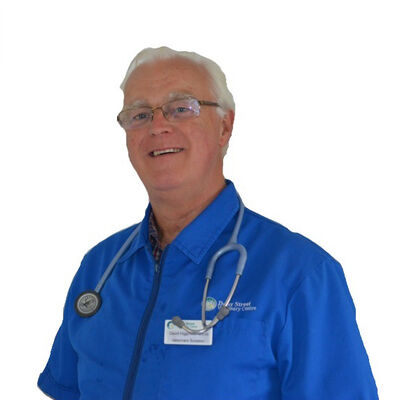 Nominated a Vet of the Year 2012, 2016 and 2017!
David has just turned 70! You can view the party by clicking this link "David's 70th party".
David graduated at Glasgow University Veterinary School in 1970 and joined the Veterinary Health Centre that summer. His special interests are pet behaviour and emotional problems, rabbit medicine and surgery, soft tissue surgery, skin and ear disease, ano-rectal disorders and keeping things easy to understand!
David was born and brought up in Blackburn, was educated at Queen Elizabeth's Grammar School, Blackburn and spent his student summers working in the practice as a nurse. He joined Alan Williamson and Keith Ashworth as an assistant vet and became a partner in 1973. The practice was a mixed practice in those days and the work included dairy and beef cattle, sheep, pigs, and horses as well as pets. In 1979 David encouraged the practice to specialise in small animal medicine in anticipation of the great medical advances that seemed just around the corner. This move has allowed the practice to keep abreast of the most up-to-date techniques and treatments, and provide the best of modern medicine for our patients.
David's interests are music, cycling, computers, caravanning, and fixing anything that's broken!
David is lead singer of local folk rock band "Moorland Folk". More about the band including MP3 downloads on