Daisy Street Vets are happy to announce that we are now able to provide the new professional alternative to the "Elizabethan buster collar".
Take a look at our Medical Pet Shirts on display in reception.

These shirts can be used in a multitude of different situations and often replace the need for that hated "Cone of Shame".
Advantages Medical Pet Shirts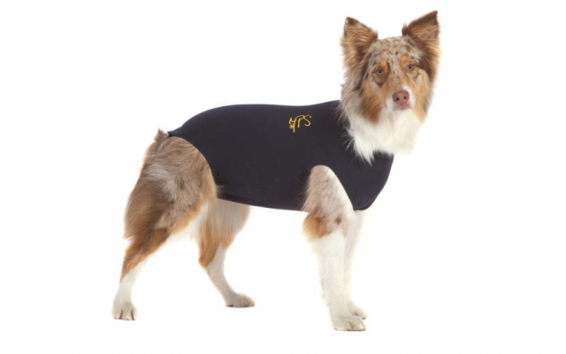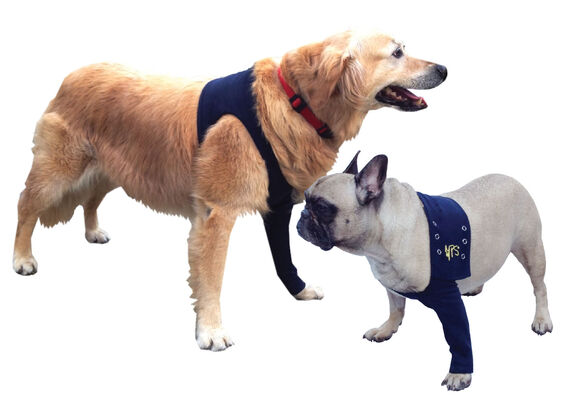 The Medical Pet Shirt offers excellent, comfortable protection after operations, such as neutering, or in cases of skin disease to prevent licking and self trauma.
With a Medical Pet Shirt your dog or cat retains freedom of movement, doesn't become distressed and doesn't bang into your legs or doorways as they do when wearing the buster collar. They are also freely able to eat from their bowls.
The Medical Pet Shirt also keeps your dog or cat warm which is vitally important following surgery.
They can be used in cases of incontinence or if your pet is in season and can also be fitted with a sanitary towel or pant liner or even a nappy to prevent any accidents.
The Medical Pet Shirt is open ended with press-studs facilitating easy fitting and removal.
The Medical Pet Shirt is easy to use with the Velcro ® patch near the base of the tail to allow the pet to be taken for a walk without removal of the shirt.
The Medical Pet Shirt is comfortable, hygienic and can be washed at 30º Celcius.
Meet Oscar – Oscar came in for his little operation and was very pleased not to have to wear a buster collar. His owners report that he has been very comfortable and settled in his shirt. He is not licking his wound and this is healing perfectly. We all think he looks so smart and handsome in his new shirt and he thinks he is like superman with his new cape!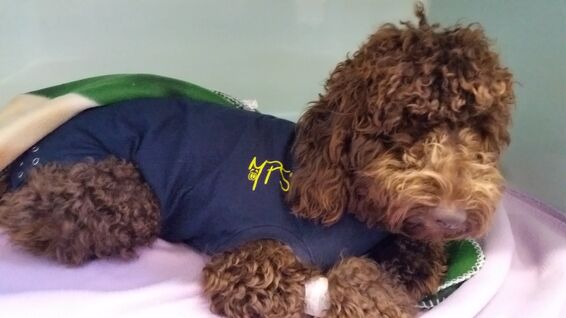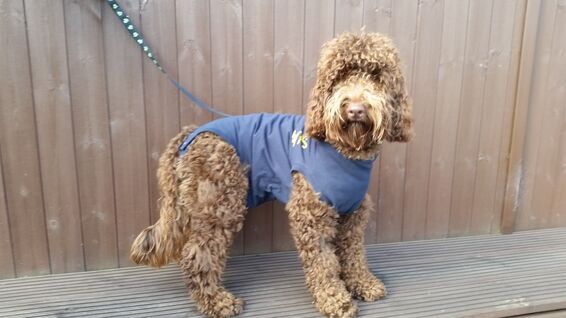 Oscar recovering after his operation Oscar back for his post-op check up with Sam
Please do enquire at reception or at the time of admission if you would prefer your pet to have a Medical Shirt rather than a traditional buster collar.
Post-operative advantages of the Medical Pet Shirt
The Medical Pet Shirt reduces stress, fear and uncertainly after an operation compared to a standard collar.
The Medical Pet Shirt will prevent your dog or cat touching the wound easily.
The Medical Pet Shirt is not tight fitted around the belly - this allows air to circulate round the wound and helps to keep it dry.
The interior of the Medical Pet Shirt is light blue making visualisation of any fluid from the wound fluids easier to identify and thus manage.
If there is any wound leakage, a panty liner or nappy can be inserted inside the Medical Pet Shirt or between the double layers on the belly to absorb this discharge and thus aid wound healing.
Before the operation the pet will often be clipped and an anaesthetic will cause their temperature to drop. After the operation the Medical Pet Shirt will help keep your pet warm and also help them feel more secure.
​For more information visit Medical Pet Shirt or watch the video below:
The shirts do cost a little more than the traditional buster collar but they can be used again and again in the future once purchased and prevent so much anxiety for both your pet and you – well worth spending a couple pounds more!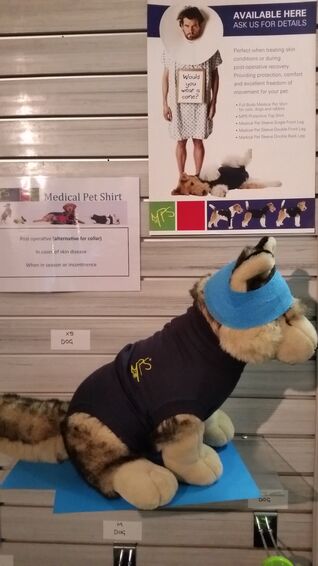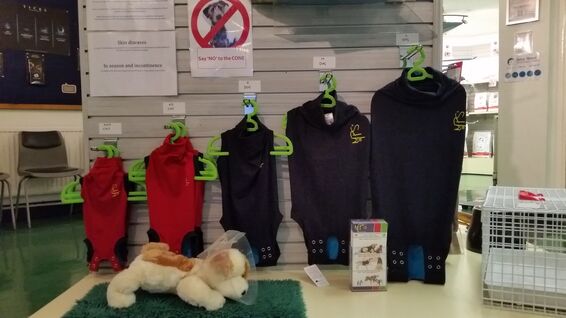 Please do take a look at our fantastic display (well done Caroline!) and feel free to enquire next time your visit the surgery.
Sam Purcell, Daisy Street Vet, Blackburn, Lancashire.

4th September 2015, 16:00