John Davies BVM&S, MRCVS
I was born in Whalley and grew up in the village of Tottleworth, near Great Harwood. My sister and I grew up with cats, dogs, rabbits, fish, hens and a horse. My greatest pal was Tina our boxer dog. She slept on my bed every night even though my parents banned this. She snored very loud. She came with me almost everywhere: she pulled my sledge, played football and cricket, I even made a lift to get her into my tree den. She lived till she was sixteen.
My veterinary interests are everything veterinary, especially cats and exotics. Puppies too. I get paid to work with cats and puppies! Wow. Getting animals better when they are ill is a great feeling. Preventing ill health in animals is satisfying too. I enjoy working with their owners. People who have pets are usually nice. Unfortunately I have developed an allergy to rabbits, so I do try to get my colleagues to see the rabbits.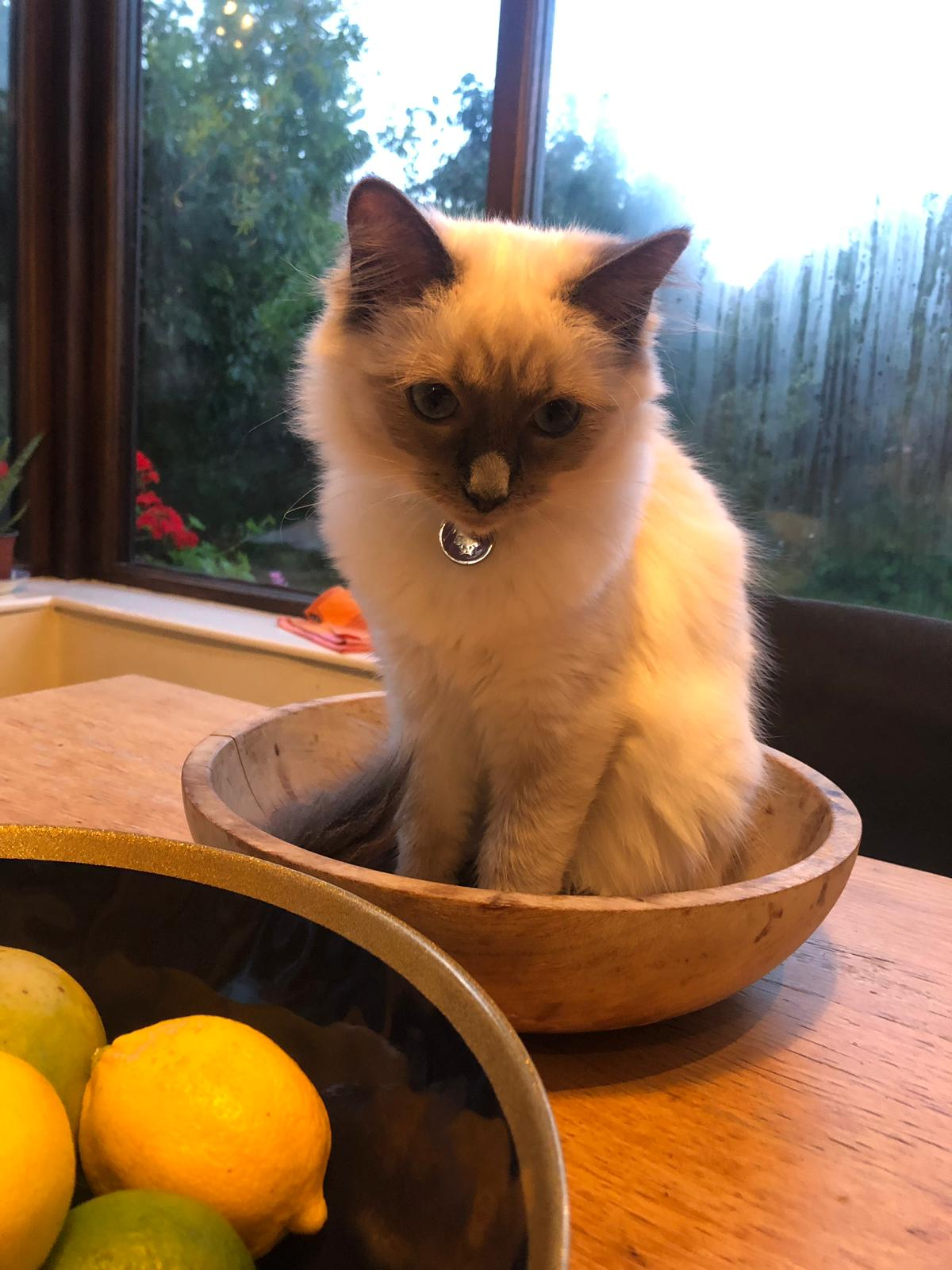 I first worked at Daisy Street Vets when I was at school. Some clients still remember me from those early days. I used to cycle here from Tottleworth. When I was at Edinburgh University Veterinary School I regularly worked here in my holidays learning to do operations.After becoming a vet I worked in farm animal practice in Selby and Glasgow before moving to a companion animal practice in Bolton. I always kept in touch and was delighted when a position came up here in 1996.
I have been nominated for PetPlan Vet of the Year in 2008, 2014, 2016, 2017 and have again been nominated this year for the 2021 awards. Thank you to all those who have nominated me. It gives me a lot of satisfaction to know you appreciate what I do.
July 2021 I am still living in Whalley with Angela, my daughter Helena, Helena's boyfriend Tom and Alex. Angela works from home for The Royal College of Nursing defending nurses. Helena is an ecologist and works in Clitheroe, Tom is about to do an engineering masters in Bath and Alex is still at Clitheroe Grammar school. Alex has swapped Judo for Scouts. Juliet and Kieran have moved into their new home in Great Harwood and will make me Grandad in September. Felicity is at Bristol University studying biology after spending a year as an Au Pair near Lake Garda in Italy.
We have 3 cats now. Little My had three kittens Lazlo, Nandor and Treacle. We kept 2 and Juliet took Nandor. Unfortunately Little My became very ill one Saturday night, my staff were unavailable . I had to take her to Armac, the emergency vets in Bury. She had pyelonephritis and polycystic kidneys. Her renal parameters were off the scale. It was an experience for me, seeing things as a client would. I was so grateful when they pulled her round. Thanks Armac. Unfortunately Little My may not live much beyond 7. We still have goldfish.
Apart from all that I am still getting older. 55 now. How did that happen? Managed to achieve Grade 7 electric guitar (the family still don't like my playing) cycle to work 3 x a week and exercise when I can.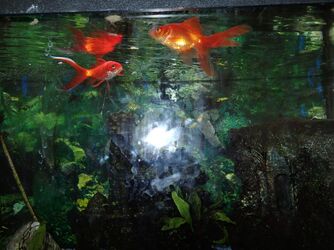 August 2019 Still live in Whalley. My 4 children have become 4 adults and 1 child. The extra adult is Kieran, Juliet, my 22 year old daughter's boyfriend, who has moved in. Juliet is working in Blackburn as an accountant. Helena, my 20 year old, is away at Durham University studying geography, we all miss her a lot when she is away during term time. Felicity is 18 and has taken a year out while she decides what she wants to do. Alex is 12 and a Judo fighter. My mum Jean still works here at the vets every monday. My dad Garry is allergic to dogs and cats, but has still ended up having pets for most of his life. My wife Angela has started working full time as a solicitor. Although she pretends she doesn't like pets, she secretly cuddles our new kitten when she thinks no one is watching.
Pets have changed. Tummy died at twenty one and a half with kidney disease. We were all very sad. No room for a dog now. We have a kitten called "Little My" named after the character out of the Moomintroll books. She is a Siberdoll (Siberian cat cross with a ragdoll). She is wonderful (That is her in the photo above).
Fish still going strong. The oldest one was won (smallest one on the photo), by Juliet, without my permission, from a fair about 15 years ago. They now have a new bigger tank as the old one sprang a leak last week. The other fish has gone yellow.
Apart from being a vet, I am getting older, can no longer do contact sport due to ancient injuries. Passed my Grade 5 electric guitar exam this summer. The family still dislike the things I play so no change there. Cycle to work twice a week and exercise when I can.
August 2017 I live in Whalley with my wife Angela, four children, Tummy the cat and two goldfish. We've had many pets over the years but right now Tummy will not allow anyone new to join the family. She clearly thinks she is the boss and we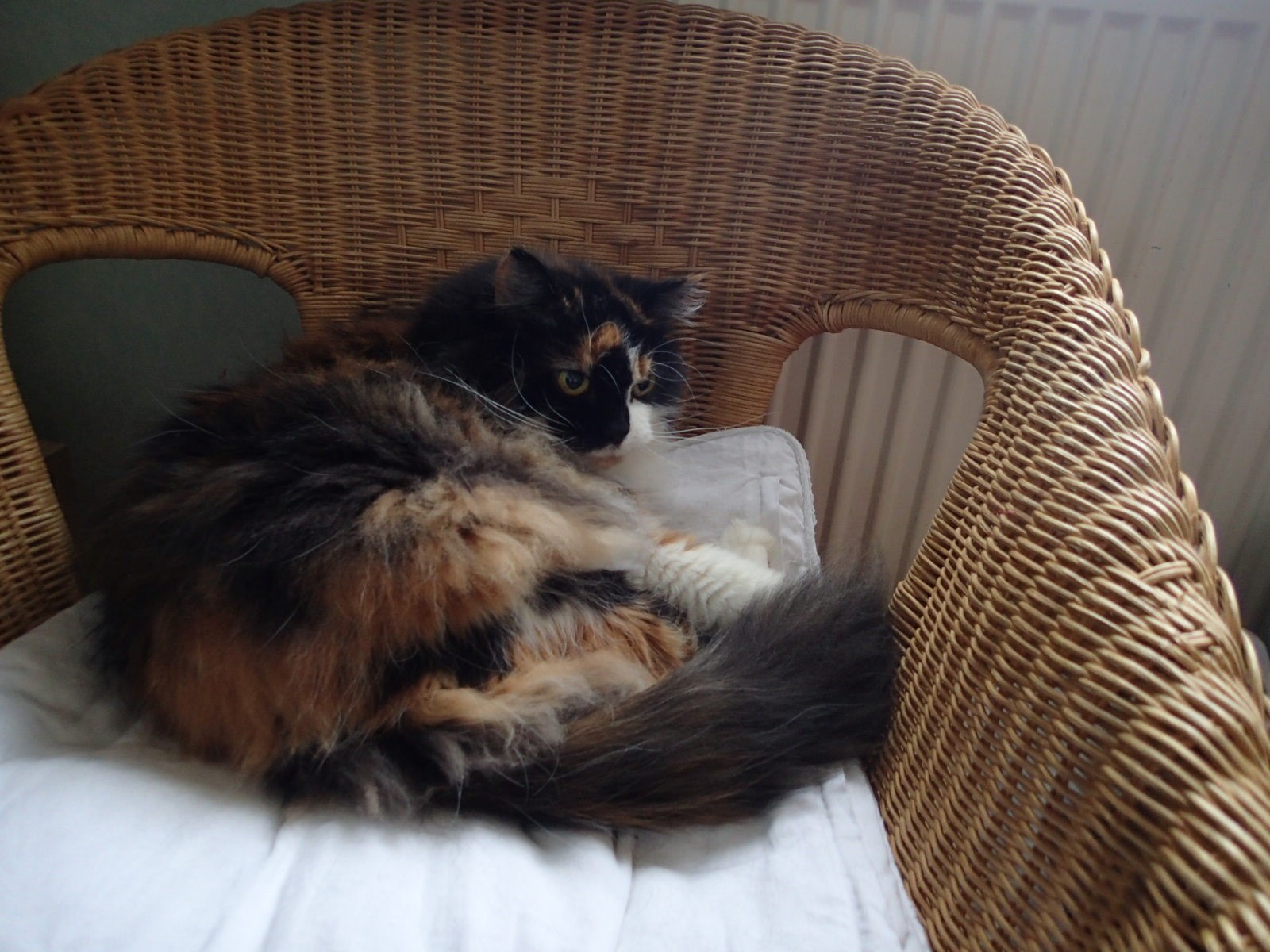 are her slaves. She could not be more different to Tina. She likes to sleep on crackly things like plastic bags or newspapers. She hates being picked up. She was brought to me to be put to sleep because she was very thin and had no fur. She was really nice and friendly so I asked the owner if I got her better could I keep her. She was born on 1st January 1998.The owner was delighted with this so that is how she acquired us. She had cystic ovaries, bad teeth and eczema. I sorted out her bad teeth and ovarian problem with surgery. She is very old now and sometimes misses her litter tray and sicks fur balls up every week, usually on someone's bed. My children do regular dog-walking for an elderly neighbour at weekends as they miss not having a dog around the house.
My other interests cycling and keeping fit. I have recently taken up the electric guitar (much to my wife's dismay). It is great fun. I use the guitar to relax in the evenings. Not sure it relaxes the rest of my family. Tummy hates it. She runs off as soon as I get the guitar out of the case. (I will need to improve!).