Safe Anaesthetics
We have a team of highly experienced and committed nursing staff. We use the best anaesthetic medicines and anaesthetic monitoring equipment.
We welcome any concerned pet owners to stay with their pet during the pre-anaesthetic period, with prior agreement with the veterinary surgeon. This period is whilst the pet is going sleepy following administration of their pre-med. We believe that we are unique in this respect. We know of no other veterinary practice that offers this service. See below for details.
Our anaesthetics for pets that are in good health are very safe (see blood testing below).
We can safely anaesthetise healthy pets of all ages.
SCREENING BLOOD TEST
For older animals we recommend and encourage a screening blood test on the day of any operation to check for hidden medical problems that may interfere with the anaesthetic and recovery post-surgery. It is a good idea, but not essential, to run a screening blood test on young healthy pets too.
Blood testing can reveal abnormalities with organ function and show us if there is any anaemia or infection. If any problems are found we may modify our anaesthetic and surgery accordingly or delay any operation until your pet recovers.
FLUID THERAPY
If necessary any pet may be given intravenous fluid therapy during the anaesthetic and recovery. Intravenous fluids help to maintain organ function during anaesthetic and speed recovery.
PAIN CONTROL
All patients are given sufficient pain relief medication before we even start any operation or dental work. This reduces the anaesthetic dose required, ensures a speedy, comfortable recovery and prevents tissue swelling around the operation site. Most patients will be sent home with pain contol medicines too.
SEDATION AND INDUCTION
We use various anaethetic agents but most commonly we do the following.
Dogs: We start with a reversible sedative followed by induction using propofol then we transfer to gaseous anaesthesia (oxygen and isoflurane).
Cats & Rabbits: A sedative / analgesic combination is used to induce light anaesthesia before intubation. Intubation of rabbits is a special skill we have developed over recent years that allows us to work in a rabbit's mouth without risk of inhalation of debris.
THE SAFEST ANAESTHETIC
We use isoflurane and oxygen for all gaseous anaesthetics. It is expensive but by far the safest inhalation anaesthetic currently available. During recovery from anaesthetic Isoflurane is rapidly expelled from the body in the breath.
CAREFUL MONITORING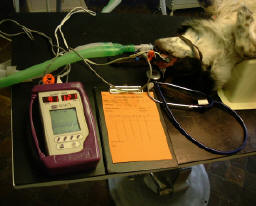 We always monitor the heart rate and blood oxygen levels using pulse oximeters. Small patients such as rabbits and guinea pigs are kept warm in a miniature sleeping bag and monitored electronically for body temperature variations. We monitor blood pressures during anaesthetic too.
Our veterinary nurses stay with every patient until they are fully awake, carefully monitoring all vital signs, and keep written records of the entire anaesthetic procedure. Higher risk patients are also monitored by an ECG.
COMFORTABLE RECOVERY
Our kennels are open for inspection at any time. It is possible for clients to settle their pets in our kennels as they arrive if they prefer, and to see them at any time during the recovery period. Very few veterinary practices allow clients to have access to their kennels. We designed our kennel area especially for this purpose.
OPEN ANAESTHETIC POLICY
We welcome any concerned pet owners to stay with their pet during the pre-anaesthetic period if they so wish. This should be arranged in advance with reception. There may be a small charge for this service. It is also possible to stay with the anaesthetised pet during some surgical procedures. Please ask reception for details. We know of no other veterinary practice that offers this service.
Samantha Purcell, Daisy St Vet Surgery Jan 2018